Hello! It's been way too long since my last post but I wanted to share my latest cruelty-free finds with you. I wrote a bit about my quest to only ever buy cruelty-free products back in
May
and thought it was time for an update. And as we can't talk about cruelty-free without a gratuitous cute bunny shot, here you go:
Cruelty-free make-up and, increasingly, toiletries are fairly easy to find but I've always struggled with quality hair-care products. Supermarket own-brand shampoos and conditioners (see
Co-op
and
Sainsbury's
own labels for super-cheap cruelty-free products) tend to be cheap and relatively low on quality. While these are fine for 'normal' hair, my long, heat-damaged, dehydrated hair doesn't do well with these basic products. Step in,
Liz Earle
.
For some reason, I'd never purchased any Liz Earle products until a few months, ago. I have to be honest and admit that this is partly because I vaguely remembered Liz as a reporter on GMTV in the 90s and I found her intensely irritating at the time. Well, I decided it was time to forgive and forget and I finally lost my Liz Earle virginity by heading into John Lewis and purchasing this shampoo...
Liz Earle Botanical Shine Shampoo £8.50
this conditioner...
Liz Earle Botanical Shine Conditioner £8.50
and this shine treatment...
Liz Earle Botanical Shine Treatment £14
My verdict?
The shampoo = awesome. Liz has a customer for life there. You only need to use a teeny, tiny dollop and it lathers up beautifully, leaving your hair feeling squeaky-clean and happy.
The conditioner = awesome. Again, you don't need to use all that much compared to other brands and although it doesn't feel that 'conditioning' while you're applying it, your hair will feel lovely and soft once you've rinsed it off.
The Shine treatment = meh. Maybe it just wasn't a good match for my hair but this was the only product I didn't love. It's OK, and I'd consider buying it again to use on a beach holiday, maybe, or if my hair was looking particularly dull. I didn't actually find this did much more for my hair than the conditioner did so it wasn't worth the £14 to me.
At the cheaper end of the market, Superdrug have recently expanded their hair-care range and now offer shampoo and conditioners which are their version of Pantene Pro-V. Pantene is made by the most definitely NOT animal-friendly Proctor and Gamble so I was pleased to try a similar product from a kinder company.
Superdrug Pro-Vitamin Conditioner £2.29
I was pleasantly surprised by this shampoo and conditioner. It left my hair nice and soft and the scent is lovely. Proper old-school clean hair smell! I bought the Thermal Protect shampoo and conditioner but they also offer 'Normal', 'Extra- Shine' and 'Volume'. I will definitely be buying this again and thoroughly recommend it if you're on a budget as the bottles are BIG and it lasts for ages. I also recommend it if you want to instantly be transported back to your childhood, sitting on the sofa on a Sunday evening, smelling of shampoo and bubble bath, full from a roast dinner and waiting for You've Been Framed to come on. Or Songs of Praise if you were more highbrow than I was.
Last, but not least, my final cruelty-free hair care find is
Tara Smith
. I'd never heard of Tara but on a recent trip to the ginormous new Marks and Spencer near Cheshire Oaks on the outskirts of Chester (if you're in the north-west and haven't been yet, go. Even if you don't like M & S, just go. It's amazing. Even my retail-therapy-hating boyfriend loves it) I spied a display of her pretty bottles. I was so excited when I picked up one of said bottles and it turned out her products were BUAV approved and 100% cruelty-free *squeal*.
I thought I'd just try the serum to start with, reasoning that if I liked it, I would simply HAVE to come back to the world's greatest M&S to buy up the rest of the range. I've only used the serum twice so far and I like it very much. A little goes a very long way and it leaves my hair looking smooth and healthy. It feels very rich and luxurious and not at all sticky like some serums tend to. The bottle is pretty funky too: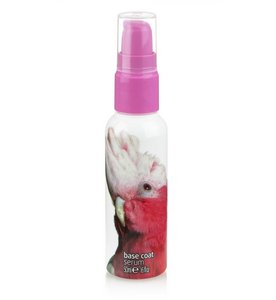 Tara Smith Base Coat Serum £14
The full range includes shampoos, conditioners, styling products and some nifty little
kits
, each designed for a specific hair type. I will be dropping some heavy hints and hoping to find a selection of Tara Smith goodies in my Christmas stocking this year.
Have you tried any of these products, or do you know of any other cruelty-free hair-care ranges? If so, I'd love to hear from you, as would my parched locks :-)
Jenny